Arizona.
Seligman, Arizona.
So I've been to Arizona a couple times, as many other Californians have before, seeing as that its one of the only other neighboring states. The only thing I remember from the last time we were there was that we ate at the Denny's in Flagstaff. I went on this seven day road trip by way of a tour bus with my cousin Jason. I wasn't really looking forward to going with him since he wouldn't stop complaining about the trip even though the only reason why he was going on it was because he and his mother were having lunch with PB when she was looking up trips for me to go on while she goes off frolicking in China with her husband. Jason totally hates my blog and thinks its a huge joke even though he has never read it. He threatened to draw all over my face and body with Sharpies if I took any photos of him sleeping or eating and since hes done it to me before, I wasn't going to take the risk.
My camera died on me after eight years of use and abuse. PB left me her new Panosonic one which I used to take a total of 846 photos in the course of seven days. I have a lot more on Jason's camera too. I was really paranoid I would hit some button and all the photos would be deleted but thankfully that didn't happen. I would've gone apeshit.
Jason's mom dropped us off at the pick up area in Millbrae. There was this guy there wearing furry purple shorts. I planned on taking a photo of him later in the day but he ended up being on a different tour than us. Sorry. We got on the Soogle bus which took us to Cupertino where we were dropped off and the real bus came to pick us up.
Oh here's what the itinerary said: "Depart the Bay Area, led by our professional guide, begin the spiritual journey to the wilderness. Head to the Mojave Dessert and spend the night in Needles of Laughlin." Right.
Well then, on to the photos. I know Jason's not as easy on the eyes as Diana and PB's camera makes me look like crap because the photos are so clear and we all know the blurrier the photo, the better I look.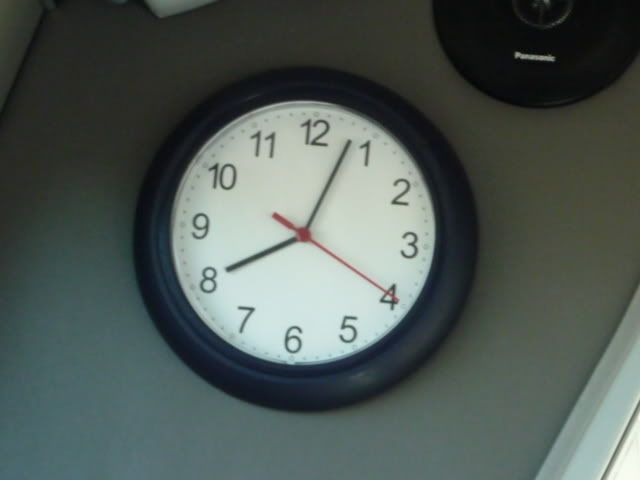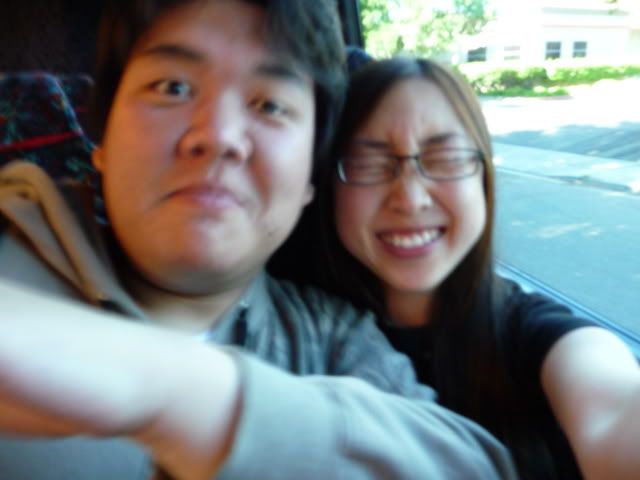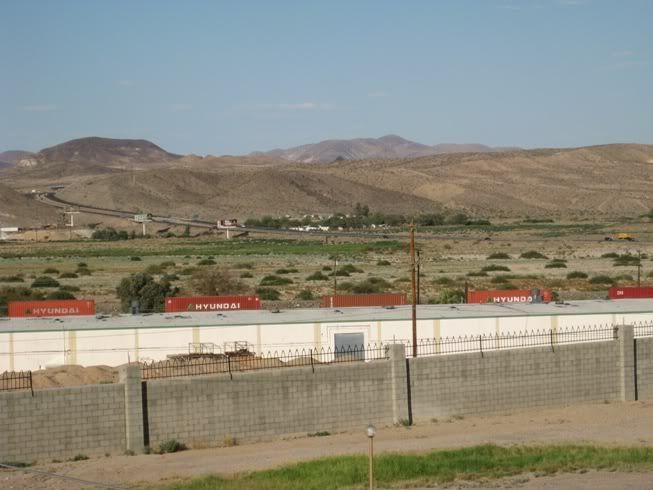 Do you remember that movie? I realized I saw it before 10 minutes into it. The guys sitting in front of us were watching Battle Royale on their laptop.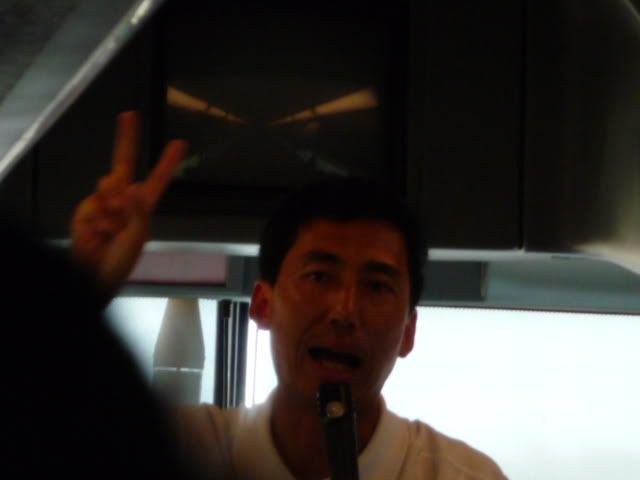 Thats our bus driver Joe and our tour guide James. He told us we would have to sing to the entire bus if we were late. He would also burst out in song himself from time to time.
Its my new water bottle! Haha. I was dying to buy one. The day after I finally did, PB and I went to Tahoe and we found one in the hotel lobby! Haha. It was ugly but we took it anyways. I saved so much money on water because of it. Jason had to keep buying them and they were always like two dollars a bottle. Taco Bell was packed when I went in so I met up with Jason at Carl's Jr. They had nothing there I could eat so I just ate the bowl of spinach I packed.
We had dinner in Barstow, California. It was incredibly hot when we got off the bus. It wasn't even sunny either, it was just the air that was hot. The bus driver menacingly laughed at me when I got off the bus and he was like "THATS THE DESERT AIR FOR YA." They all went to eat at some buffet place and I went to the grocery store next door and bought a bag of grapes and some croutons pretending to be bagels.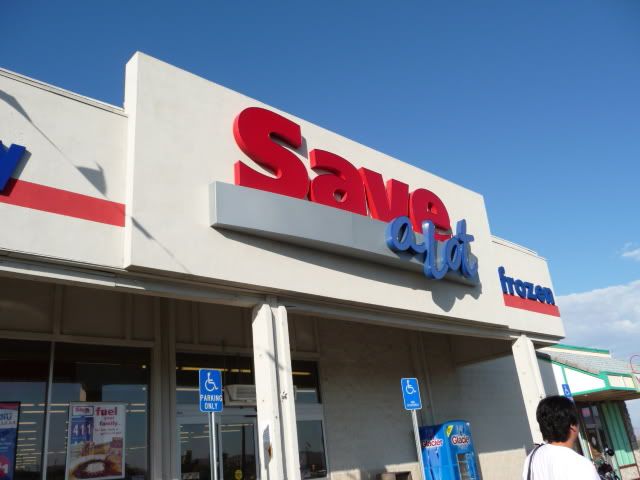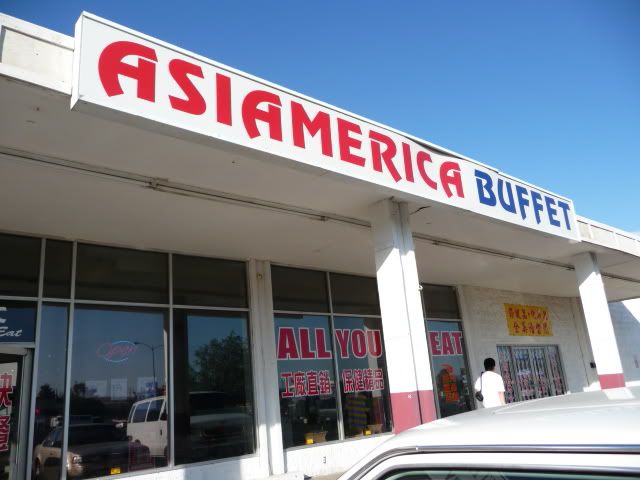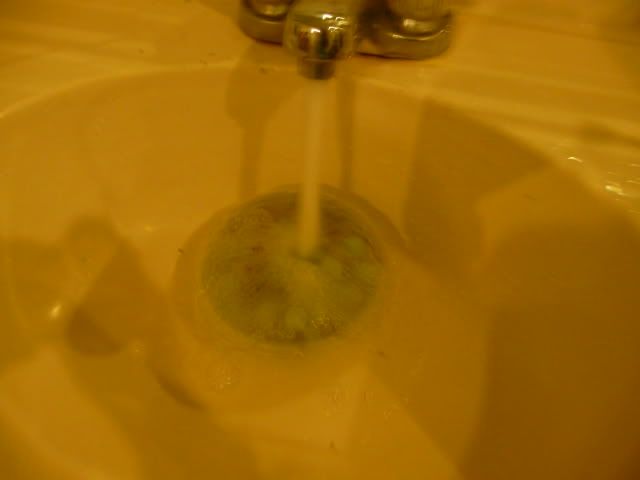 We spent the night at Super 8. I was hella craving Fruit Loops and I was tempted to buy a box at the grocery store but good thing I didn't since they had it for free in the morning. We left on Andy Divine Street. This is my stupid attempt at taking a photo of the stars. They looked amazing. I had no idea what I was missing until I saw them. Damn you fog.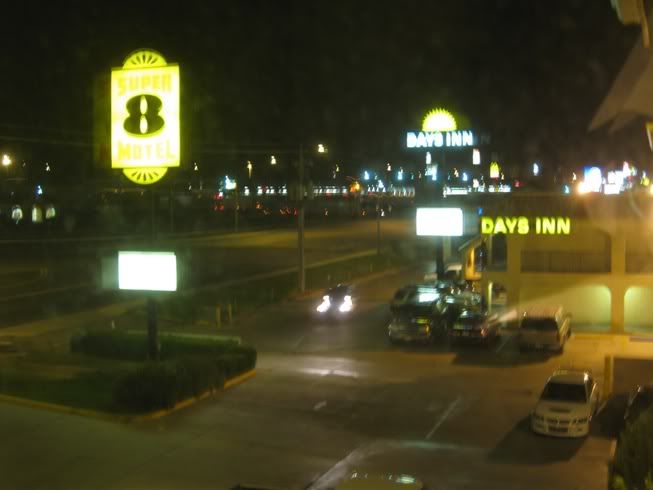 We went to the historic Route 66. It hella reminds me of Wal-Mart since they have a clothing line by that brand. I have no idea why I know that. Route 66 is the Oregon Trail of the 20th century. Apparently its the most famous in the world. I had no idea.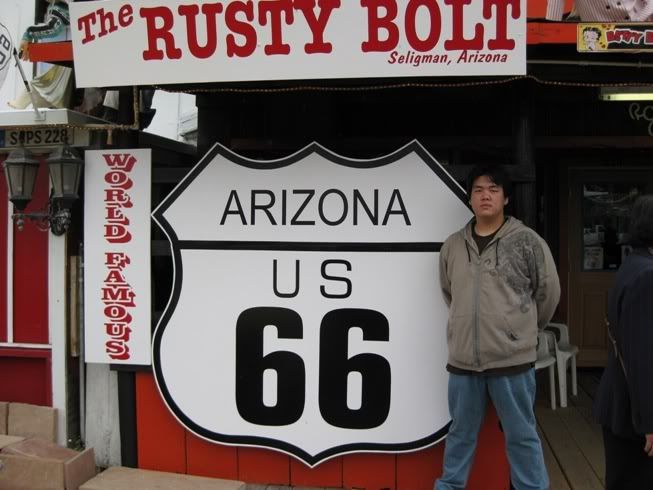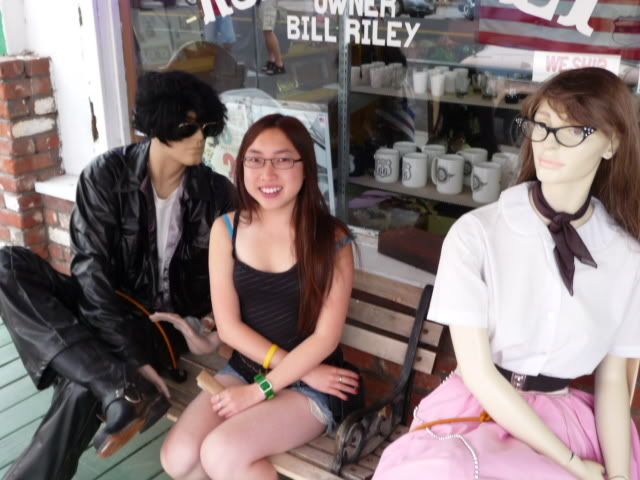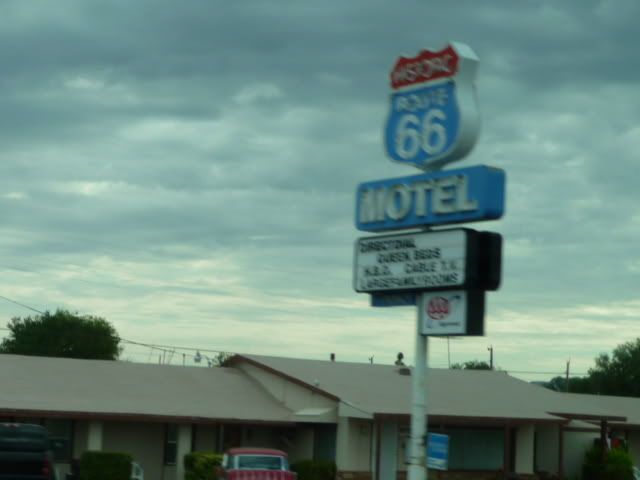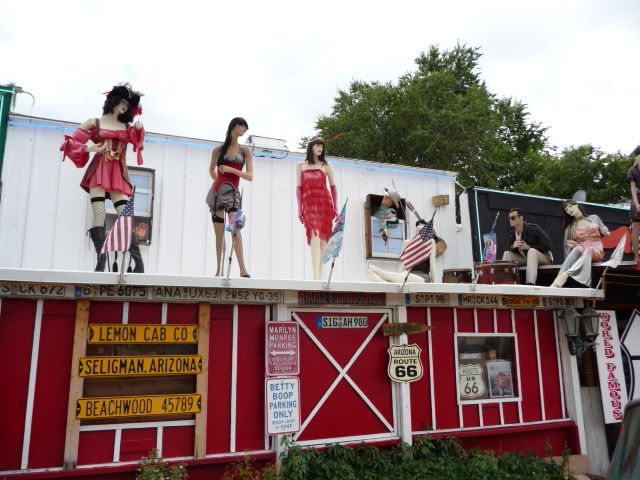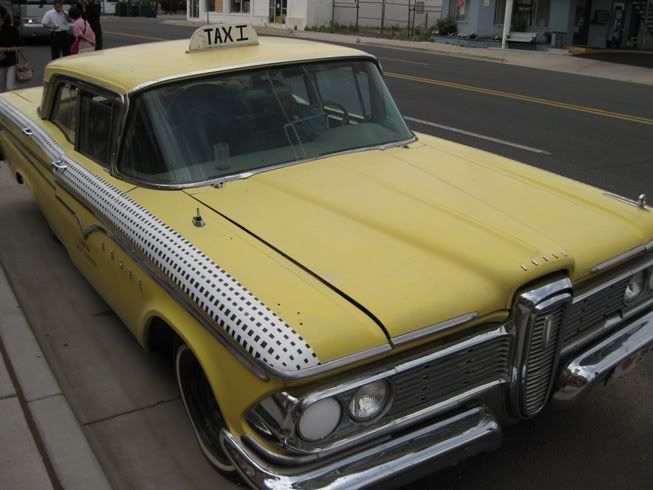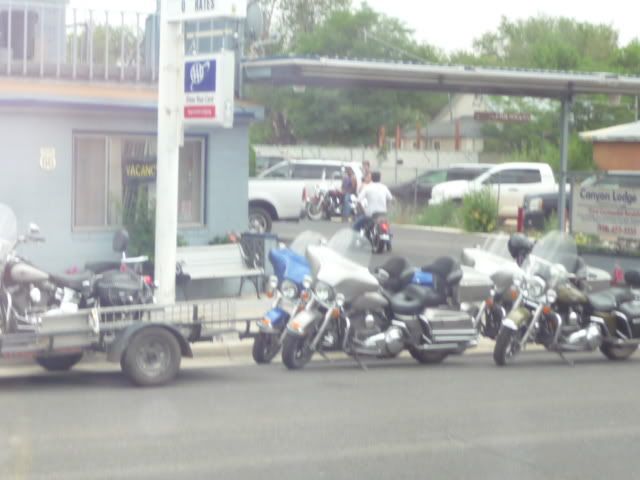 Its hard to see but theres mannequins in the cars playing out car accidents or something. Oh Jason told me the funniest story. While I was in the gift shop, this huge group of bikers came in. He said one of them was only wearing a leather cup when he rolled in but after he got off his bike he put his pants on. Haha I really wish I could've seen it.
Then we went to Sedona which was one of my favorite places we went to.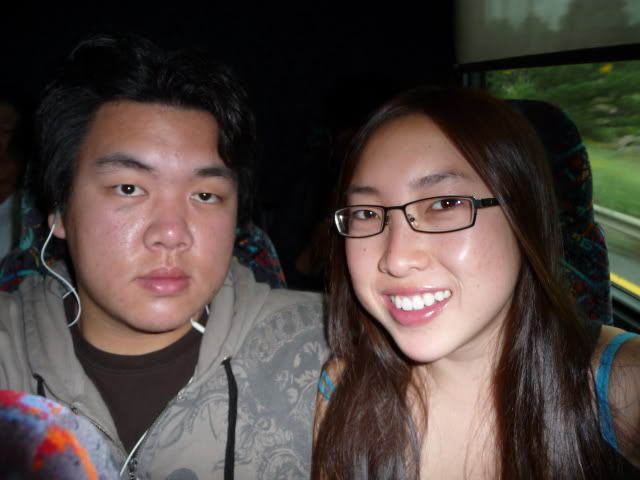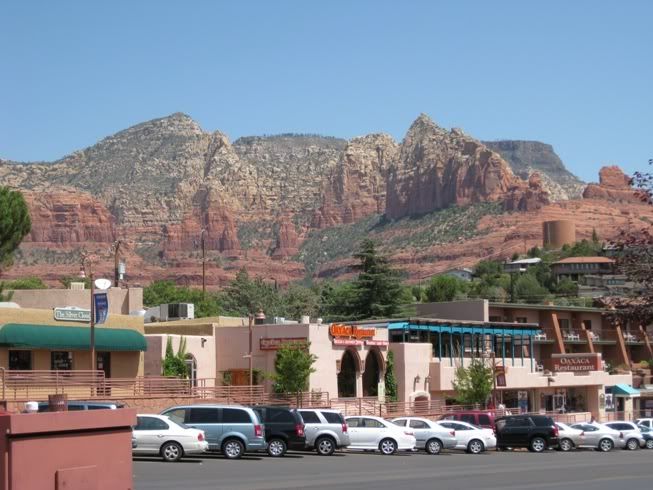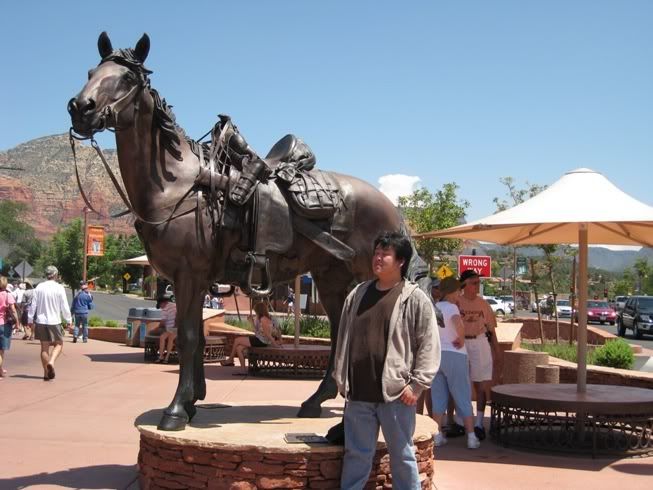 Jason ate lunch at the world famous Sally's B.B.Q. According to him it was really good.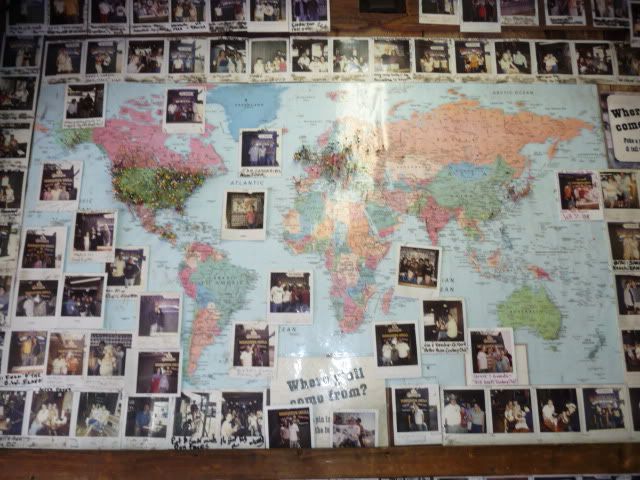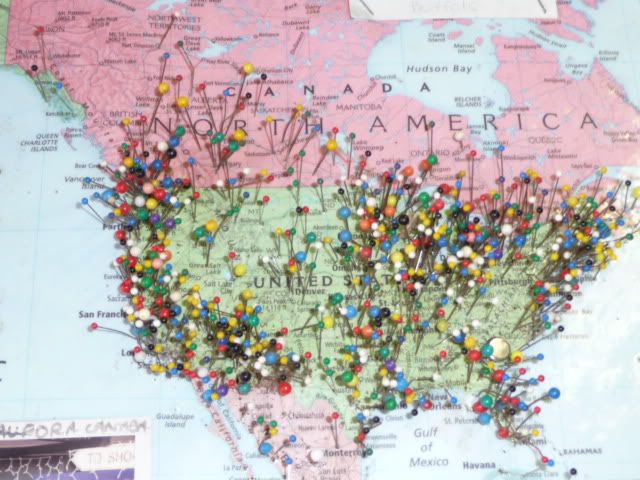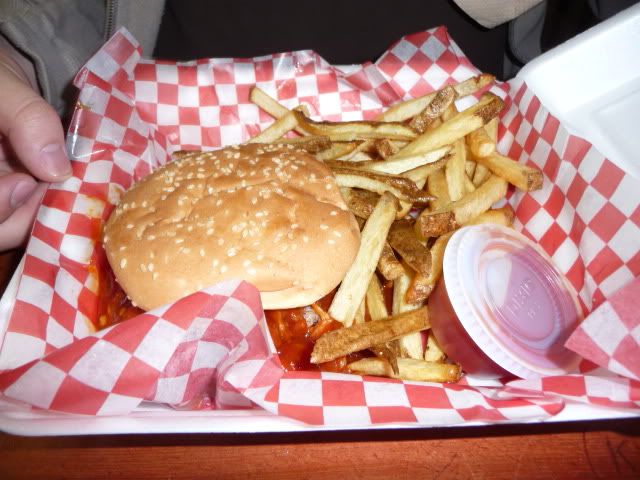 After lunch we were off to the Petrified Forest. Petrified wood is wood that has turned into stone where the organic material has been replaced with minerals. There was a museum about it too. One ton of petrified wood gets stolen every month. Can you tell I took notes on this trip?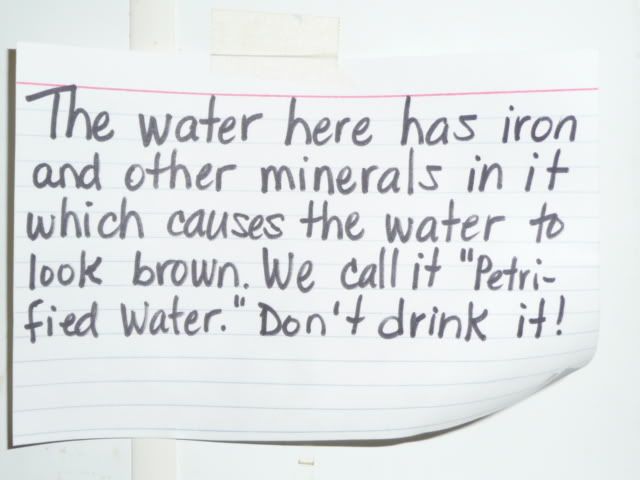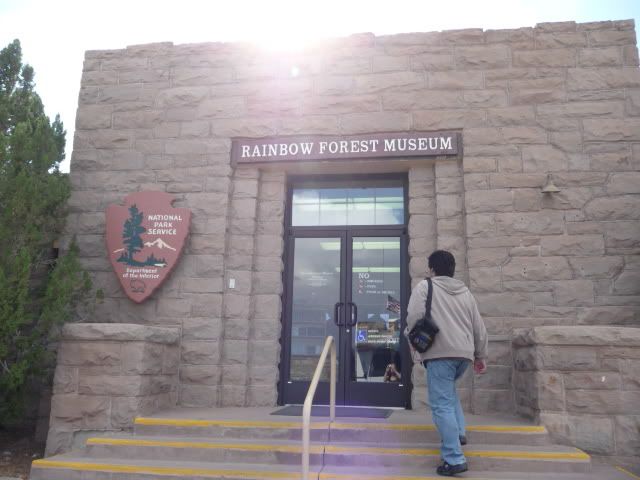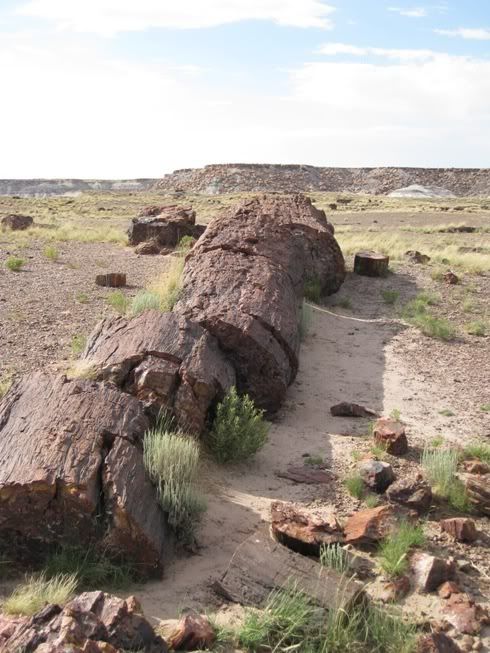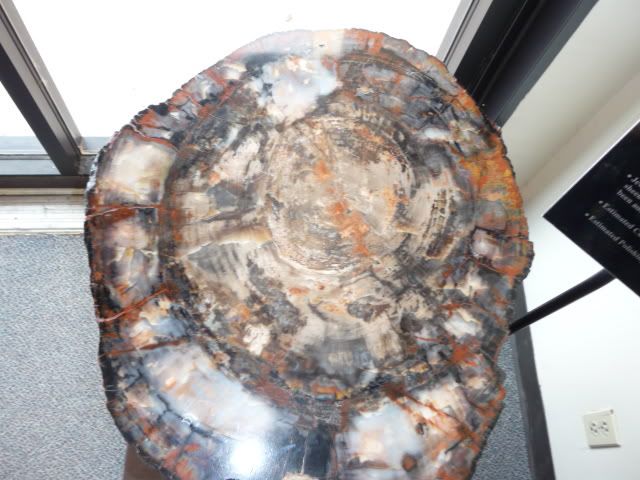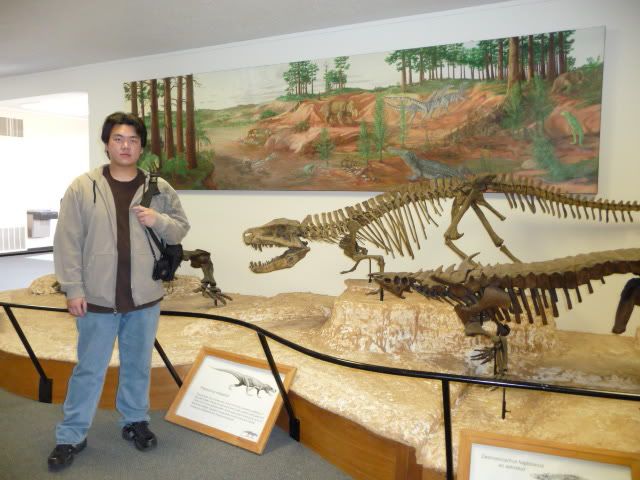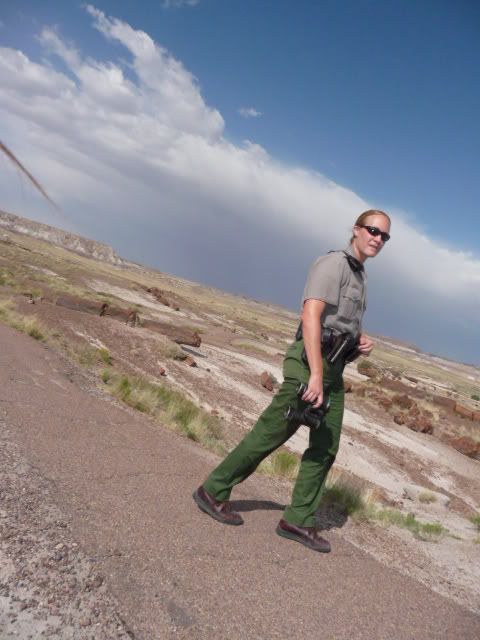 She hella yelled at Jason and I for walking off the trail. Then when I was watching the mini documentary about the place, she called one of the people in the room out. Apparently she took some rocks or something and in the bathroom I heard the woman go apeshit. She was like "THEY'RE NOT SUPPOSED TO SEARCH ME. WHO DO THEY THINK THEY ARE. THERE WAS NO SIGN POSTED ABOUT NOT BEING ALLOWED TO TAKE ROCKS." Then back on the bus, the woman started arguing with the tour guide because she didn't want to sit in the back. She said it smelled bad and then she started saying the bus driver smelled bad and yeah, it didn't go very well. He doesn't look very angry there but at one point I thought he was gonna choke her to death.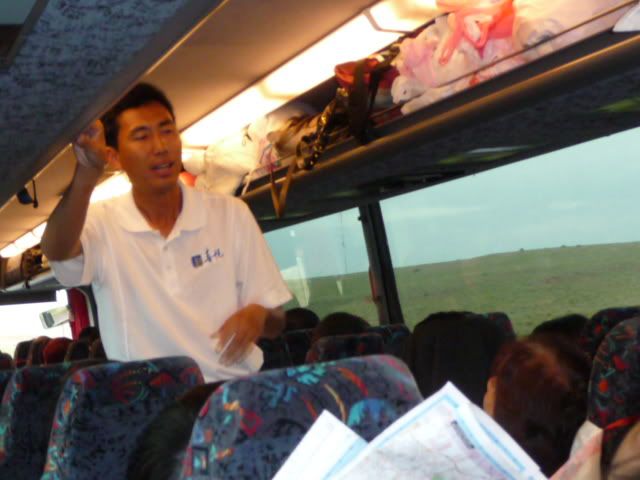 On day two, we went to Monument Valley. Its located on the border of Utah and Arizona. Many movies were filmed there including: Forrest Gump, Mission Impossible, and Back to the Future 3.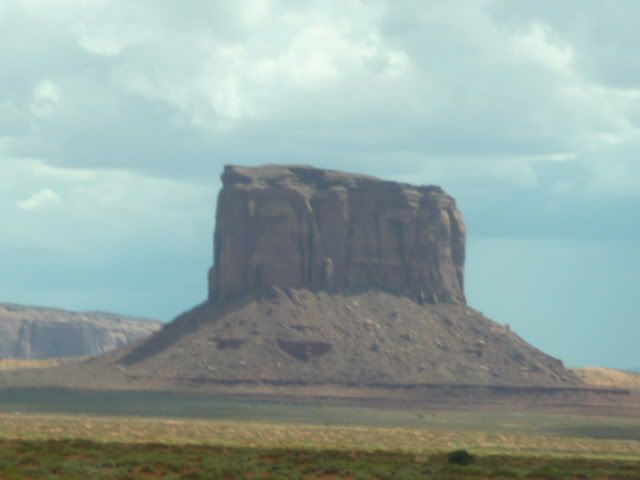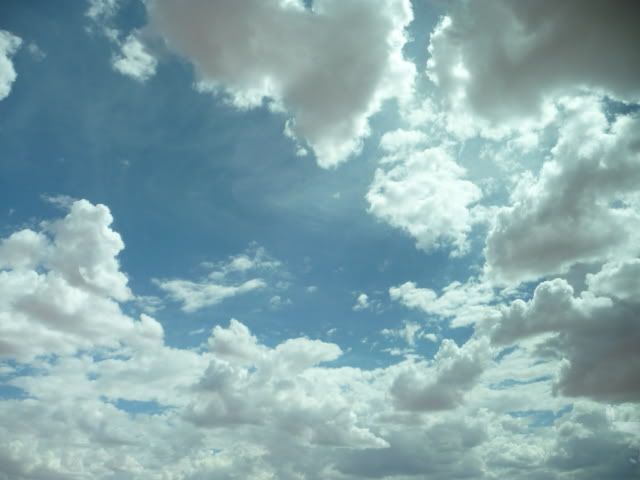 Back to the Future was filmed there. Oh and a bunch of Jeep commercials are filmed in the area too. This is supposed to look like a king on his throne: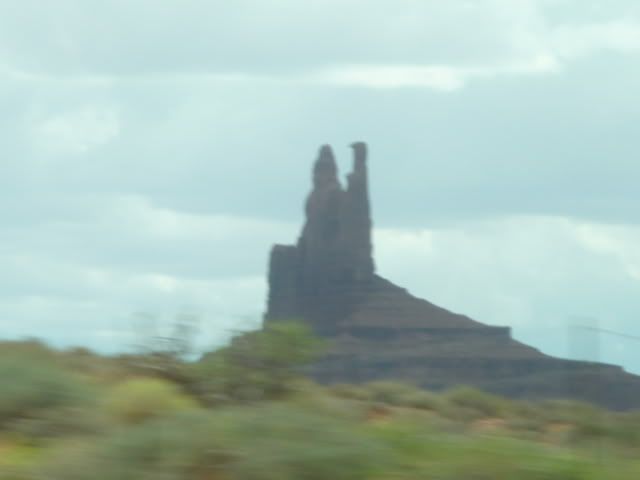 And here is where Forrest Gump was filmed.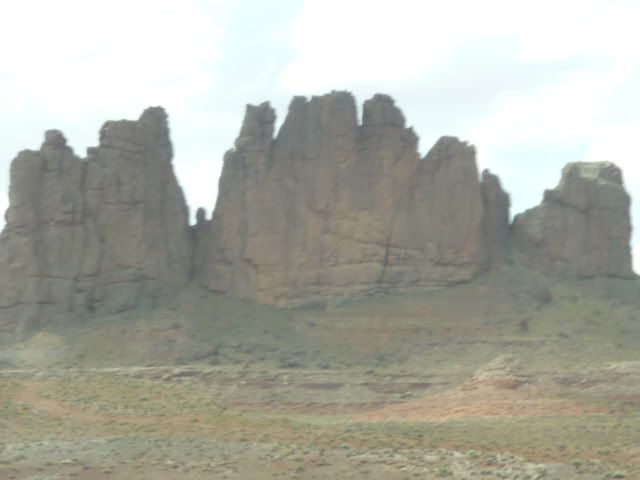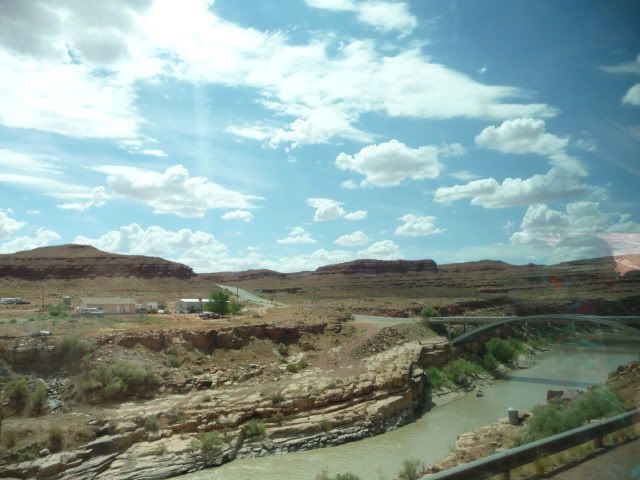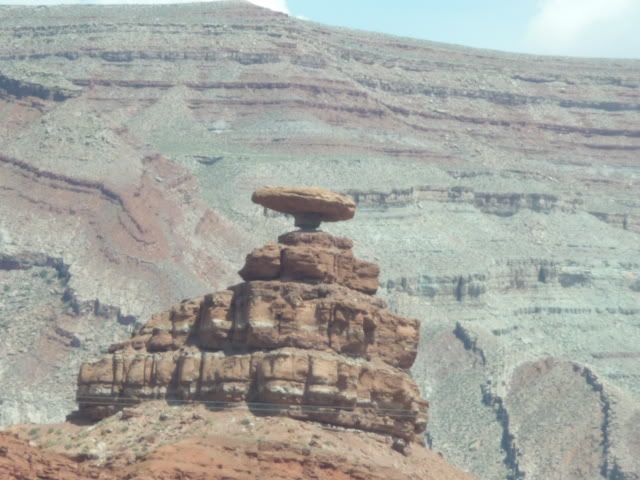 And thats the famous Mexican Hat. All the places around it were playing off The Hard Rock Cafe. They had places called the Hat Rock Cafe. Haha.
Most of the people on our bus went on an optional tour of Monument Valley. Jason and I were dropped off at Goulding's Monument Valley Trading Post and Lodge. We took some photos and then we found a grocery store.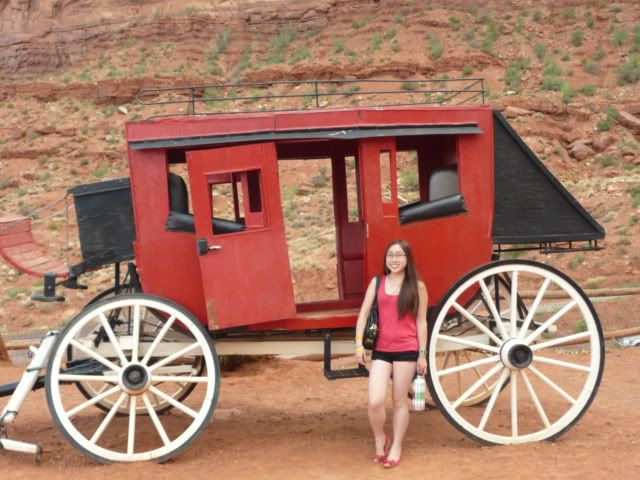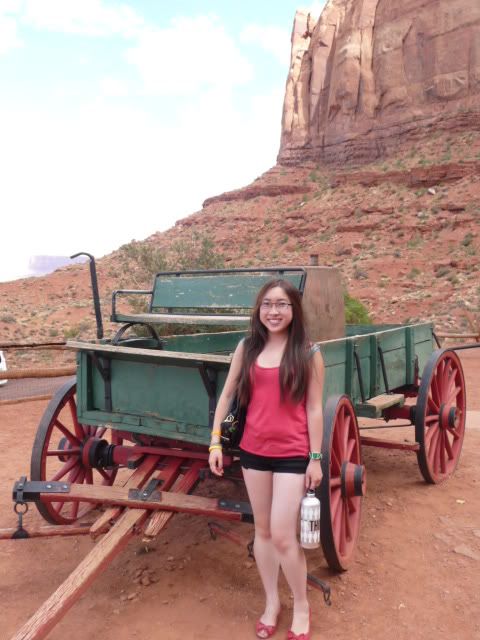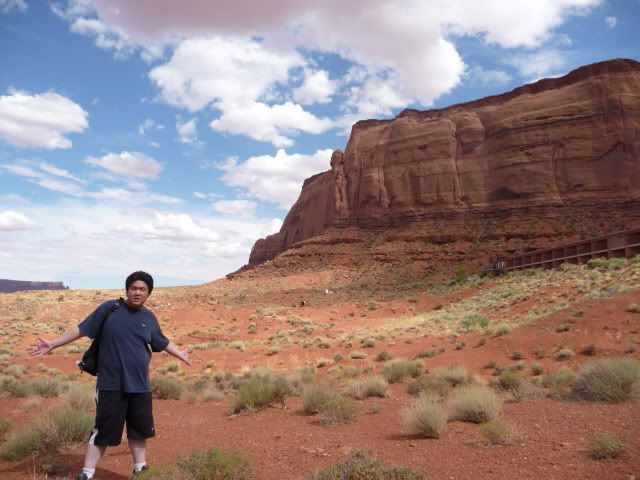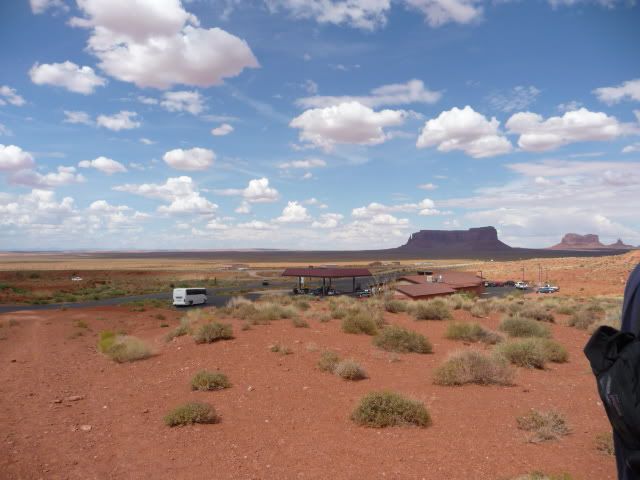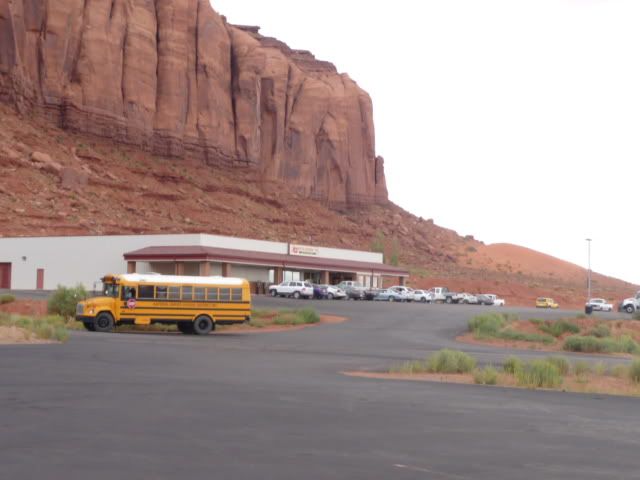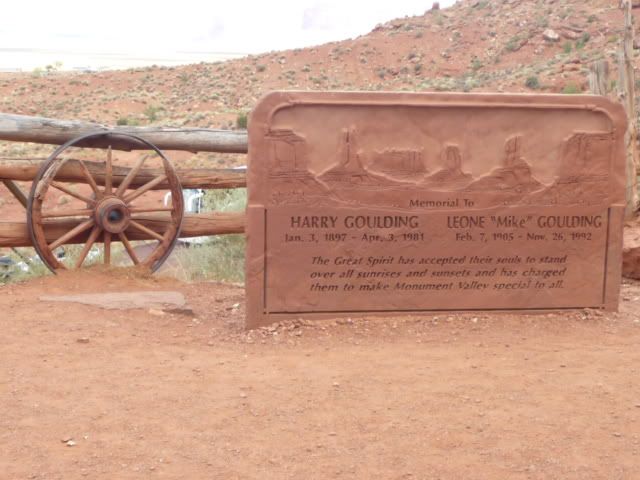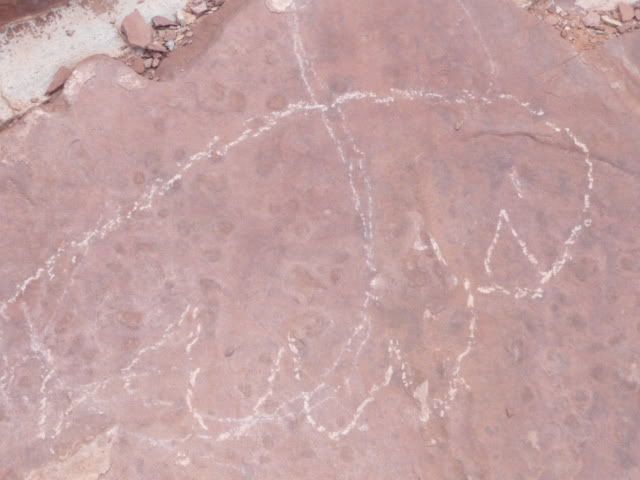 Teehee the Horbese went to Arizona. Haha. We stayed in Page that night at the Travelodge. We got there so late and when we left to go get dinner, most of the places were closed. It started pouring too which I'm assuming is partly my fault since I kept saying how much I missed the rain. I don't know why but the ground was getting flooded. We went to Safeway first and everybody was crowded by the door waiting for the rain to stop so they could leave. Then we went to Taco Bell but unlike the ones here, they don't stay opened 24 hours. After that didn't work out, Jason just got something at KFC and that was the end of that.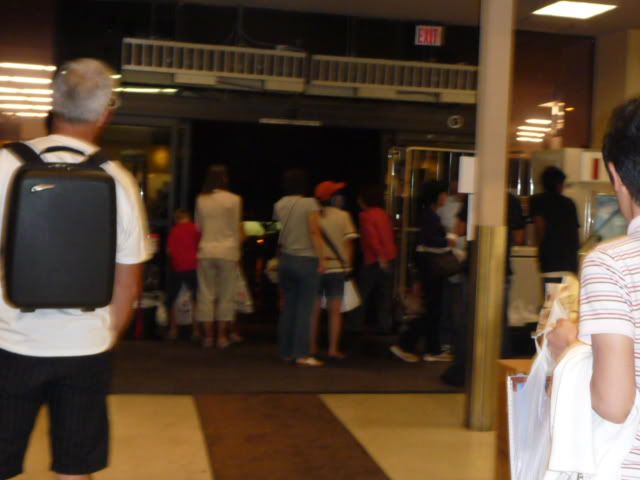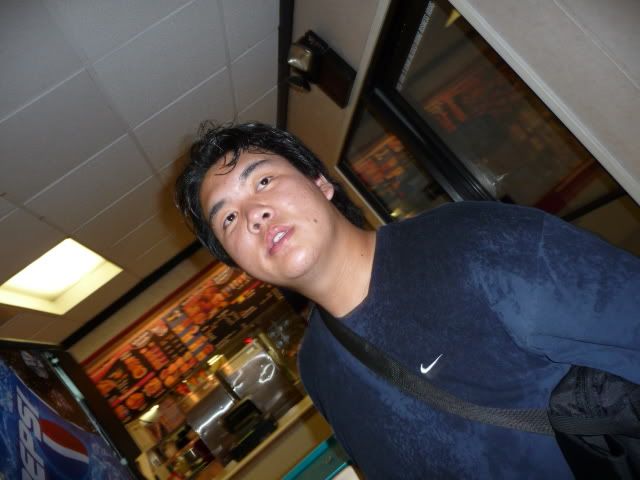 On our last day in Arizona, we hiked up Horseshoe Bend of the Colorado River. It was pretty scary. I hate places without guardrails. James warned us that if anything fell, we shouldn't go after it. Hah, no kidding.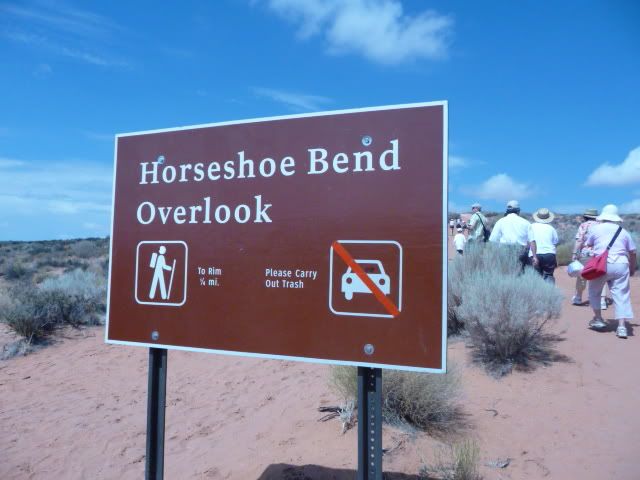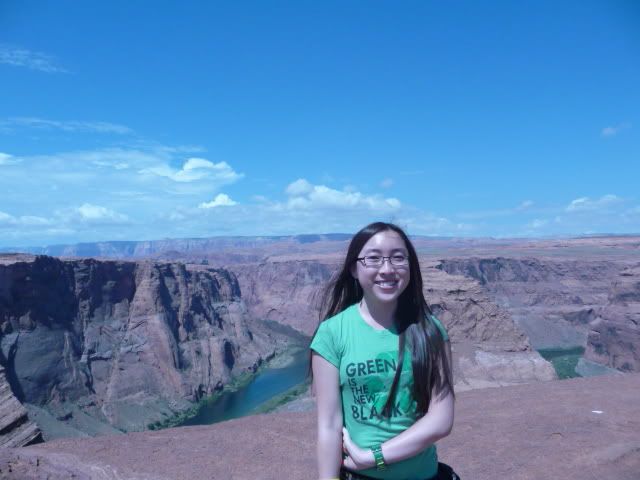 The last place we went to was Antelope Canyon. It was one of the optional activities that required an additional fee. It was $30 and well worth it. I think Jason and I were the only people on the bus that only went to one of the optional places. Most of the people went to all of them. I only went because Jason was dying to go there and I'm glad we went. The ride there was reminiscent of a rickety wooden rollercoaster with tons of dust flying in your face.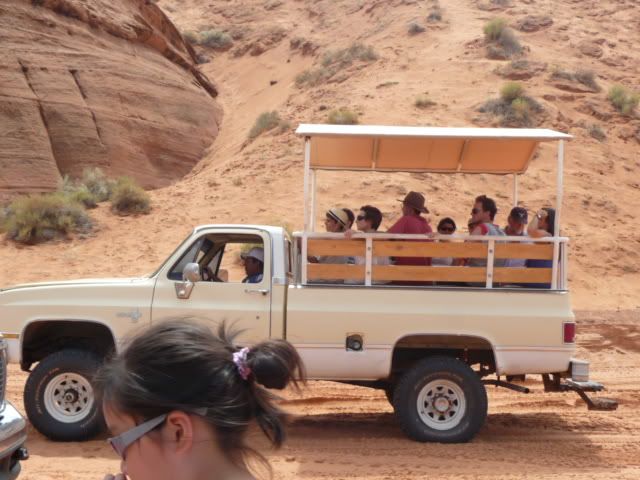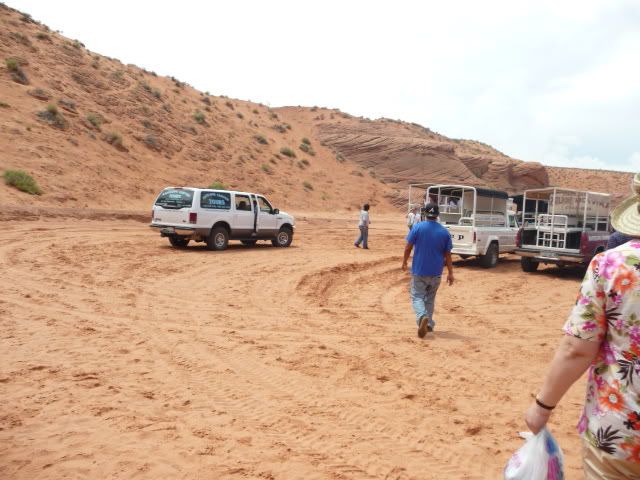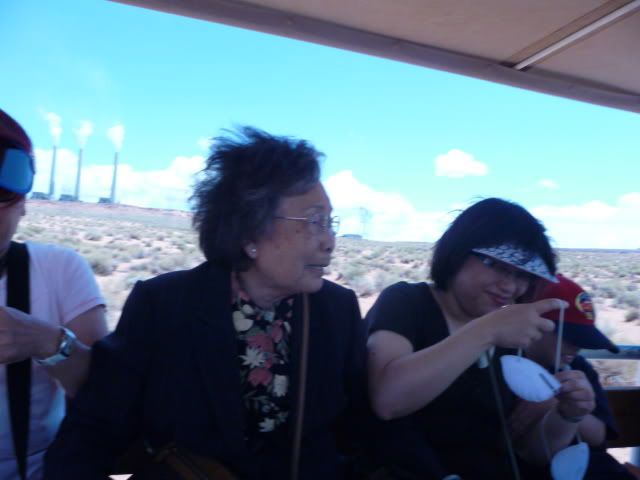 That woman totally fell on me when the car started. At one point I looked at the driver and I realized he was driving all over the place on purpose. Our tour guide, Vernon, was all sorts of adorable and his entire family or something was working as the other tour guides. Everytime we passed by one he would be like "thats my mom" or "thats my brother." Haha.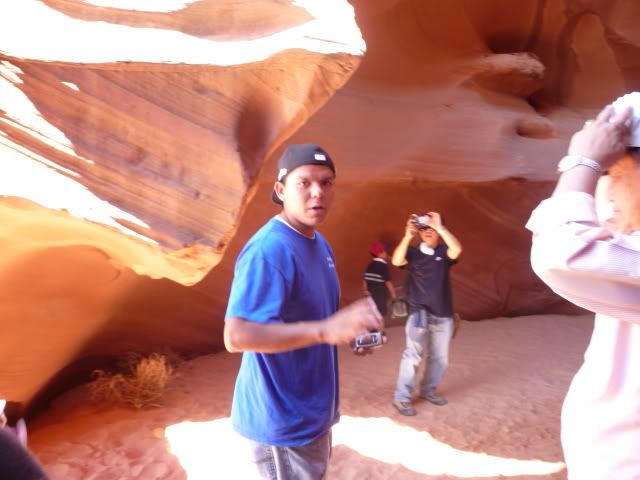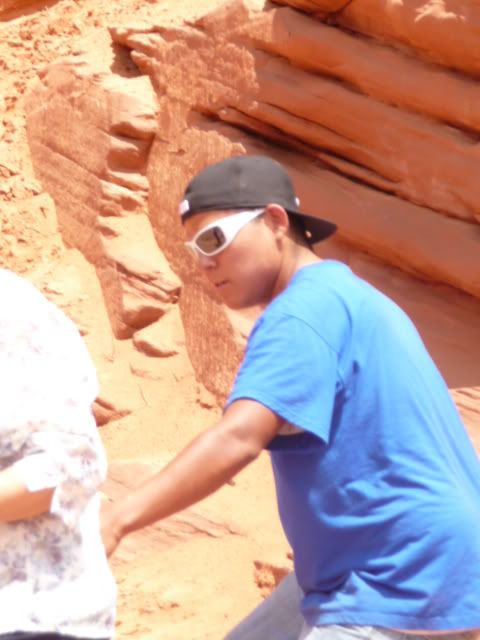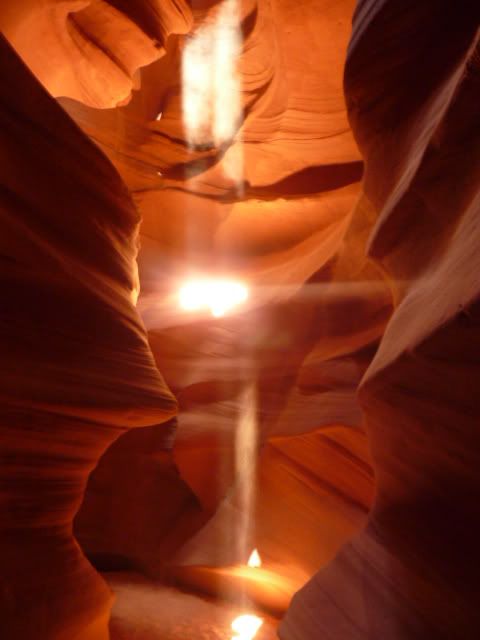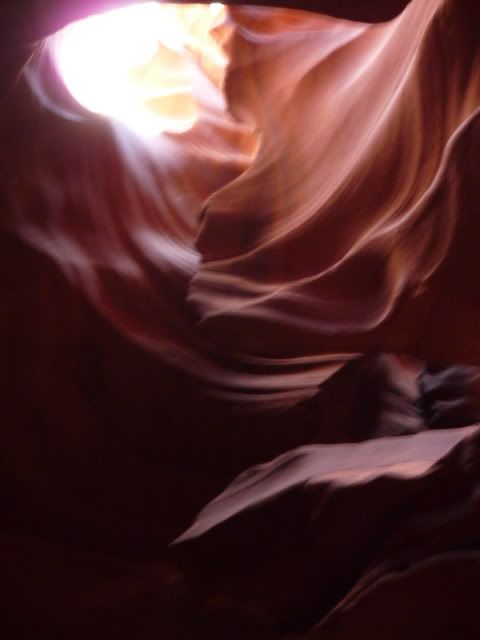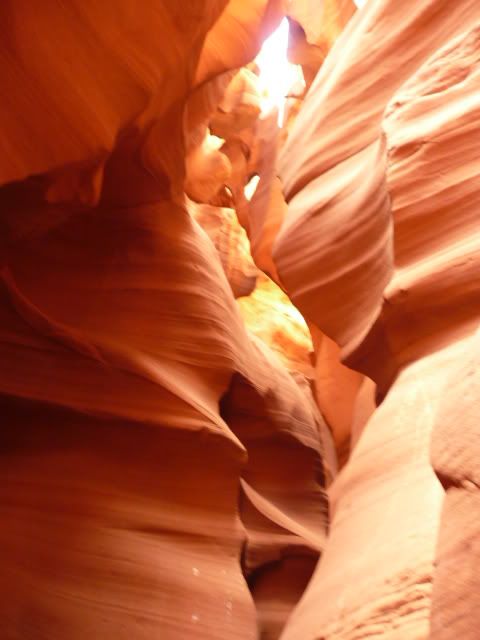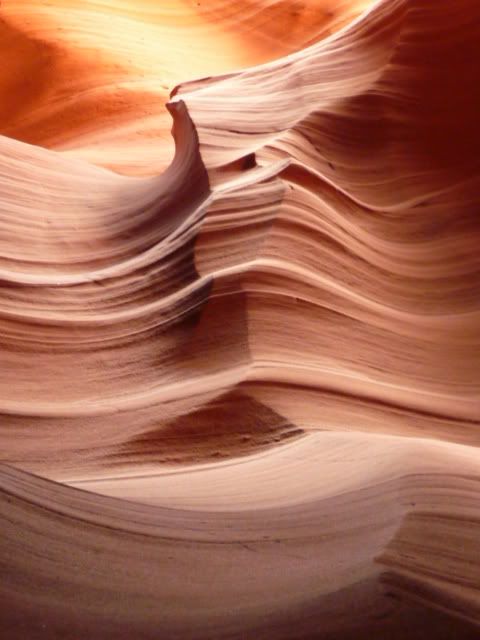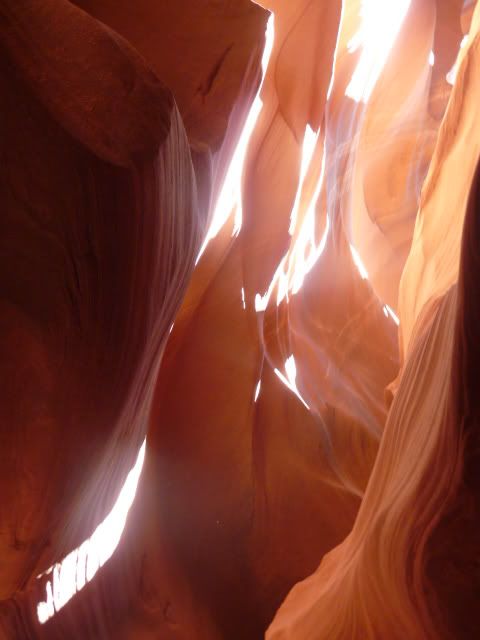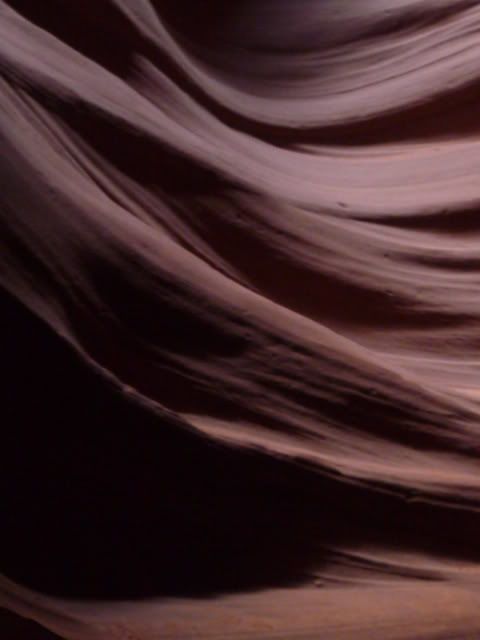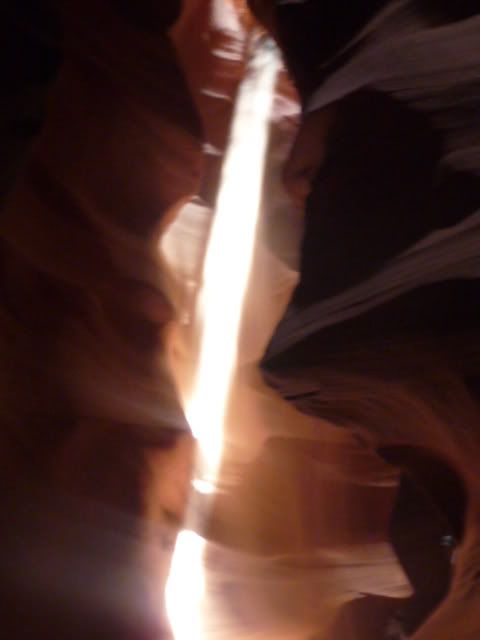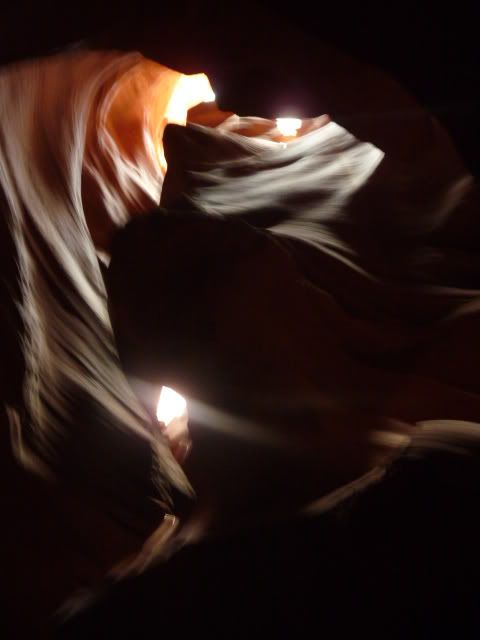 Its Abe Lincoln! Can you see it? The bottom part is his chin and its like you're looking up at his face. Haha. There were all sorts of people in the Canyon. There was Elvis and Simba. I'm having a hard time finding the photos of them though since you can't really see it unless you use your imagination and its hard when theres 100 photos of them in miniform.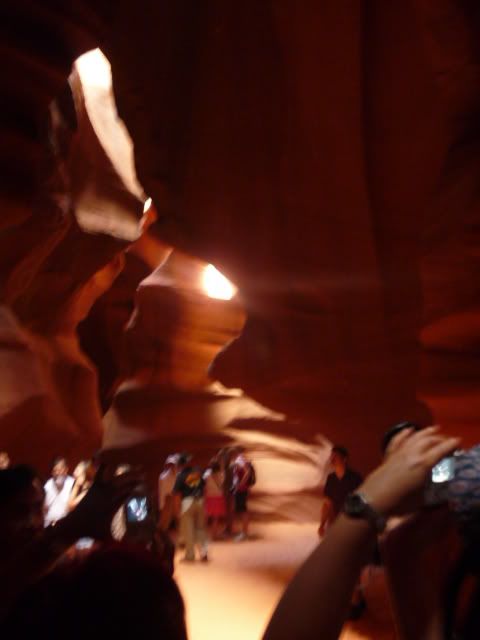 Oh that one is a flying eagle.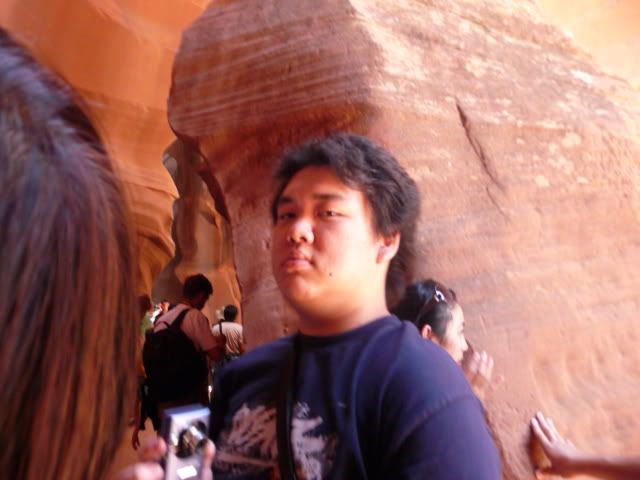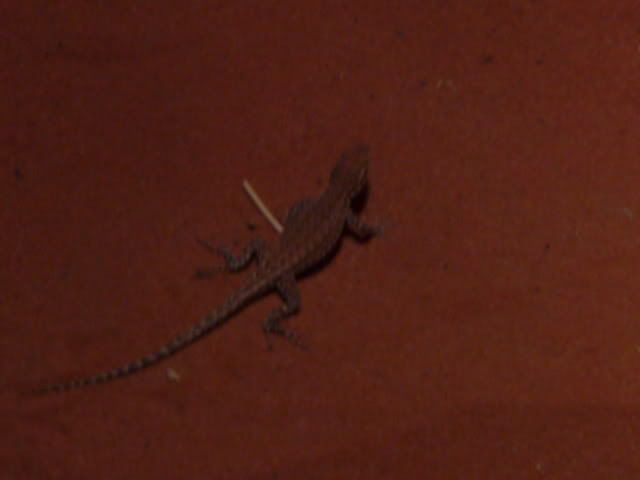 This girl on the bus with us, Frances, pointed out this random Indian playing the flute in the corner. Haha. I didn't even notice him at first. The reptile crawled over her foot while we were in the Canyon and she hella freaked out. Haha. There were so many of them.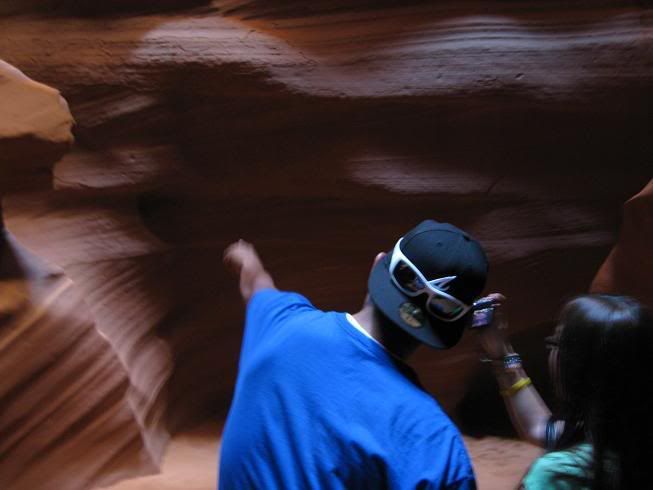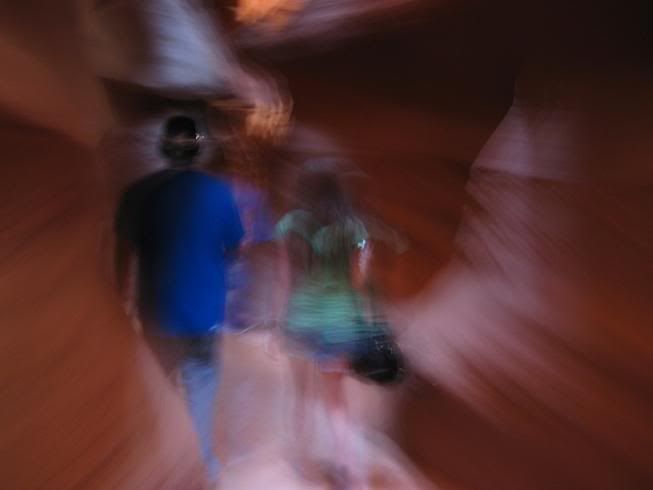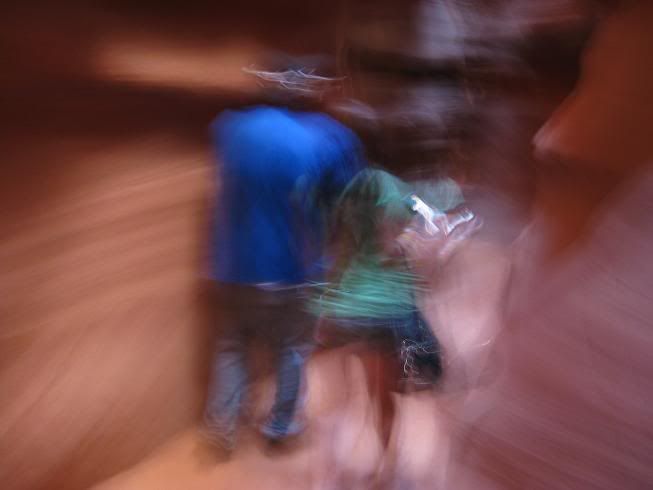 Jason and his new friends were all making fun of me and the tour guide and they took hella photos of us from the back. At one point I turned around and Jason made the stupidest face and gave me a thumbs up sign. The photos turned out pretty good though. Haha.
It took me over two hours to write this blog. Hopefully somebody reads it.