Illinois.
Chicago, Illinois
So I figured I'd be able to visit all 50 states by the time I'm 30. The last one I went to was Illinois with a layover in Colorado over the summer.
We stayed in this hotel called Extended Stay America which I've never even heard of but now that I have, I keep seeing it everywhere. There was a whole kitchen thing in our room and they gave us pans and dishes and everything. How accomidating.
I know. Not the most flattering photos.
This guy randomly took my camera and took a photo of us. How nice. Oh and I'm wearing a t-shirt I bought in Colorado.
I was really annoyed at PB at the time so everytime she told me to take a photo, I didn't.
Yeah thats about all I took on our tour ride on the boat. We saw a building owned by Donald Trump and the buildings that were in Ferris Bueler's Day Off.
Of course I couldn't go to Chicago and not do some harmless stalking.
Random people of Illinois
Uh, some pretty thing I saw after the boat tour.
PB and her loverrman
This was right near this radio station and it was in a glass room so when you walked by you could see the radio personality talking. Pretty nifty.
I asked PB to take a photo for me and this is what happened
So when she asked me to take a photo for her...
And obviously we went to the Sears Tower.
Yeah thats about it. We had deep dish pizza twice. We went two days in a row and the waitress recognized us. Haha. There was only one pizza place in the entire area. How crazy is that? I thought there would be a bunch of them. Oh and before we left for the airport we bought some White Castle cheeseburgers.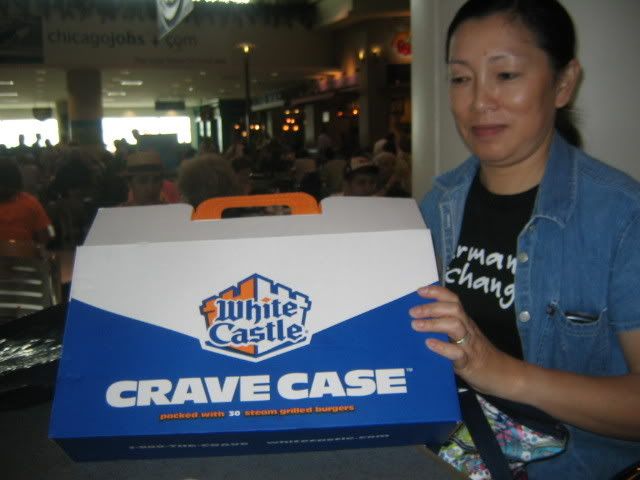 Thirty of them actually. They got kind of gross after I ate like four.
Yeah thats about it. Then our flight got delayed by like four hours and we had to spend the night in the airport in Denver. It was fun. They wanted to check into a hotel but I begged them to stay in the airport. It was impossible to sleep though. It was really bright and loud noises kept coming out of no where. Yep.
43 states left to go.